Welcome to the website of The Icelandic National League
The website of The Icelandic National League is intended to facilitate and enhance communication with members of the organization. It is now easier than before to add news to the website with greater possibilities for adding photographs.
It is important to the board of The Icelandic National League that members of the organization and others will be able to obtain information about the organization and what lies ahead in its activities.
The board will strive to report news from events in North America where people of Icelandic descent are involved. The organization's aim is to promote unity and cooperation between Icelanders at home and abroad, and to strengthen relations with people of Icelandic descent in North America.
The Icelandic National League also works on strengthening relations with The National League of Icelanders in North America under a special agreement.
__________________________________________________________________________
Full House at INL Conference Jan. 12, 2013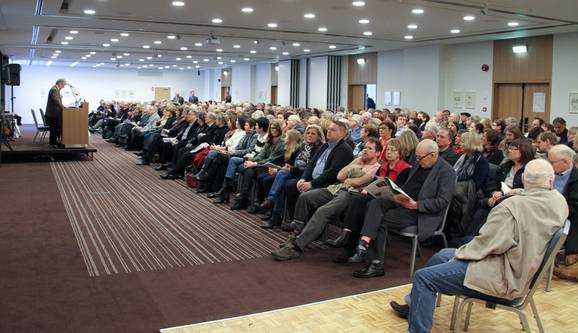 Some 300 people attended the afternoon conference organized by INL Icleand, Hofsos Emigration Center and Bændaferðir which was held at Hotel Natura (Loftleiður) January 12, 2013. Speakers included Atli Asmundsson Consul in Winnipeg, Valgeir Þorvaldsson from Hofsós, Andri Freyr Viðarsson (TV celebrity), Ásta Sól Kristjánsdóttir (Snorri Program) and Svavar Gestsson (Former MP and Ambassador). The musician KK performed as well.
More photos of the event. Click Here.
__________________________________________________________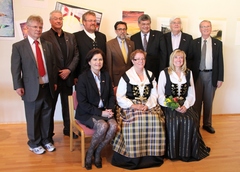 Enjoyable Þing (Conference) held in Akureyri in conjunction with Akureyri´s 150th Year Anniversary
August 25, 2012
http://www.visitakureyri.is/is/akureyri-150-ara/akureyri-150-ara
The guests were treated to the fantastic music talents of Lára Sóley Jóhannsdóttir and Hjalti Jónsson, both to start and end the meeting. Special Guests were the Mayor of Akureyri Eir.ikur Björn Björgvínsson; Ron Goodman, President of the INL of North America; USA Ambassador Luis E. Arreaga and Canadian Ambasssador Alan Bones. Pam Olafson-Furstenau gave her presentation " The Love of Iceland in America" which is part of the International Visits Program. Brad Hirst also gave a talk on the Snorri Program and Icelandic Camp. Icelandic Camp is held annually in Gimli, Manitoba. One of the INL of Iceland Board Members, Rögnvaldur Guðmundsson gave a presentaion on a number of plans that are going to be persued in the future regarding the INL of Iceland.
Look at some of the photos under Myndasafn http://inl.is/page/inl_myndasafn_2012_2
__________________________________________________________________________
Subscription Offers by the Lögberg-Heimskringla Newspaper July 2, 2012
The Lögberg-Heimskringla Newspaper has been published in Winnipeg, Manitoba Canada continuously since 1886. The L-H offers members of Þjóðræknisfélags Iceland (INL-Iceland) and the public an annual subscription in electronic format for only $20 Canadian per year (2.400 ÍSK.) This newspaper is published 24 times a year and carries a variety of news articles detailing knowledge of the activities related to people of Icelandic descent in North America.

Gudrún Violet Hilton Bjarnason and Brian Guðmundson, board members of the Lögberg-Heimskringla, met today with ÞFÍ (INL-Iceland) President Halldór Árnason where they discussed possible subscriptions for members of the ÞFÍ. The accompanying photo was taken during today's session.

The Lögberg-Heimskringla subscription offer will be presented in the next newsletter of the ÞFÍ and and at the Þjóðræknisþingi ÞFÍ (INL-Iceland Annual General Meeting) to be held in Akureyri on Saturday, August 25, 2012.

Guðrún and Brian also shared an impressive brochure to promote new L-H subscriptions broadly, with 10,000 copies published. This new brochure has many colorful pictures and information about various activities relating to Iceland as well as Icelandic events in North America. This Brochure is available on the following link:
www.lh-inc.ca/documents/LHPromoBookJune2012web.pdf

The Lögberg-Heimskringla currently is viewed by over 10,000 readers of Icelandic descent in North America. The distribution and expansion of this 126-year-old newspaper should be a great boost to the Icelandic Tourism promotion activities, as the L-H encourages new readers to visit Iceland, the land of their ancestors.

For full details of the Lögberg-Heimskringla Newspaper, visit its website: www.lh-inc.ca/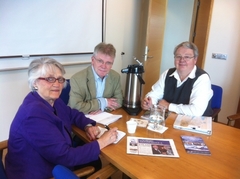 __________________________________________________________________________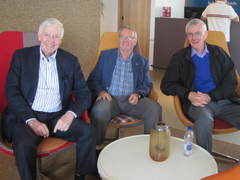 Kris and Eric Stefanson Visit Iceland (In this photo with Almar Grimsson former President of INL of Iceland)
The Stefanson brothers, Kris and Eric, from Winnipeg in Manitoba are currently visiting Iceland. They have come to visit regularly around this time of year to visit friends, promote relations between Canada and Iceland and enjoy the island has to offer.

The brothers have their origins traced to Undirveggs near Ásbyrgi. Eric is the former Minister of Finance of the Province of Manitoba and represents INL of NA on the board of the Þjóðræknisfélag, INL of Iceland. He is one of those who helped set up the Snorri Program and was for a long time active supporter of Snorri West project in which young Icelanders who had the opportunity to stay for 4-6 weeks with a family in Manitoba of Icelandic decent. Kris is a judge with the Court in Winnipeg.

The brothers are tireless in promoting commercial and cultural ties between Canada and Iceland and have been very successful in that effort in many areas. Eric is interested in golf and on this visit he will golf in both Akureyri and the Westman Islands. Kris is a spiritual coach Eric.

Golf is one sport that the brothers have their significance. In early October, they will bring the Falcons ice hockey team which is composed relatives of theirs and of other people of Icelandic decent to participate in the international hockey meet in Reykjavik. Team of the brothers participated and won the tournament last year so they now have to defend their title.